Why do we partner with Gorgias?
DIDO Agency is a proud partner of Gorgias, a customer service platform that centralizes your company's support in one place. We're able to speed up the customer support process, taking minutes — not hours or days — to answer questions and help our community. By compiling support tickets, centralizing complete customer data, and automating tasks with Gorgias, DIDO can help more, and help faster.
Answer customer questions in minutes, not days
Enhance Support
Support Faster
Automate Support
Enhance Support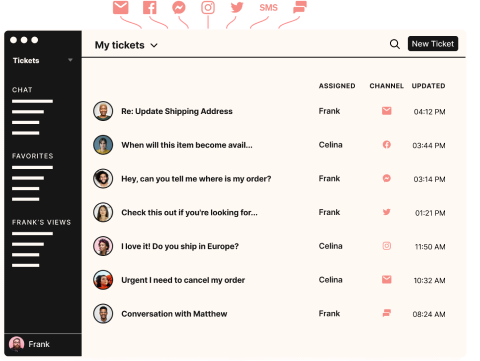 Centralize all your support tickets in one place

Have all your customer's data displayed when you're talking to them. Edit orders, modify subscriptions, and refund payments without leaving your helpdesk.
Support Faster
Automate Support
Turn your customer support into a profit center
Gorgias allows us to say goodbye to a typical customer support center, and hello to a profit-generating center, too. What starts with a question can turn into a sale, allowing customer support to be sent and received anywhere in the world. Gorgias helps us increase ad revenue and effectiveness (equivalent to 5% ad spend!) by responding to customers on social media ads and posts. Tracking sales outside of our website elevates oour brand from all angles. 
Increase conversion rates by turning visitors into shoppers
Give your visitors a personalized shopping experience — no matter where in the world they are.
Engage with customers before they hit your website
Respond to customers asking about your products on your ads and posts, increasing your sales and ad effectiveness by the equivalent of a 5% increase in ad-spend.
Unlock sales from support via live chat, text, and social media
Your customers won't always be on your website. Track all sales generated by support agents over text messages, social media answers, and live chat conversations on your website.
The first helpdesk to connect to Klaviyo SMS
As you might know, DIDO is a Klaviyo-certified organization, leveraging the wide range of Klaviyo capabilities throughout our entire business. Now, we can combine the powers of Klaviyo SMS with Gorgias, enaling seamless conversations between the entire DIDO team. Gorgias allows automatic ticket creation from Klaviyo SMS campaigns, offering timely responses to your customers every time.
Support your shoppers and create conversations that convert
Montezuma's reduces resolution time by 15% and saves 5 hours per week by using the Gorgias & Magento integration
decreased
resolution time
How Shinesty scaled their business and increased their customer satisfaction by moving to Gorgias
How much money will Gorgias save me?