Why do we partner with Smile?
Loyalty is one of the most important things a brand can have. With DIDO and Smile, you can turn loyalty into rewards with a brand new loyalty program. Smile is the world's most trusted loyalty app, used by over 125 million shoppers around the globe! Incentivize customers to make (repeat) purchases to gain points, keep your most frequent customers happy with VIP rewards and exclusive deals, and give rewards for customer referrals. It's never been easier to give back to your customers.
Turn first-time customers into forever customers with the world's most trusted loyalty app Over 125 million shoppers earn points through Smile.
Give the people what they love.
Create a loyalty program shoppers love
An intuitive interface is a good one, which is why DIDO loves Smile's approach to their reward program. Created with customers in mind, Smile's design is easy to understand and to use. Smile's rewards interface can be customized to match your branding and increase brand recognition and is available in four languages, too. Nudges — Smile's on-site reminder system — allow you to encourage your customers to engage at crucial pointsi in the sales funnel.
Intuitive design
Design control
Customer nudges
Translated
Mobile-first
Intuitive design
Built with your customers in mind A rewards program shouldn't be complicated. With Smile's rewards panel, it's easy for shoppers to earn and redeem points.
Design control
Customer nudges
Translated
Mobile-first
Working with DIDO and Smile puts points in your customer's hands, but the platform puts power in your hands, too. You can completely customize your loyalty program, from matching your branding to making changes to coupons and rewards, all with the click of a button.
Modify
Brand
Manage
Measure success
Reward emails
Modify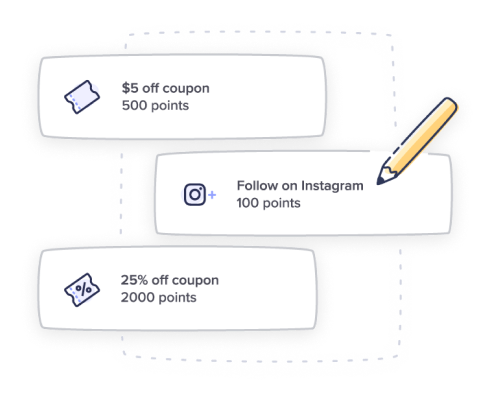 Make changes yourself in real time
You shouldn't need a developer to manage your loyalty program. With our admin dashboard, changes are quick and easy for anyone on your team to make.
Brand
Manage
Measure success
Reward emails
Over 100,000 small businesses reward with Smile
Evy's Tree saw 83x their return on investment and significantly increased their repeat purchase rate with their Who's Hoo rewards program. With a cohesive loyalty brand and an outstanding customer experience, Evy's Tree is a brand that anyone can learn from, no matter what industry you're in.
"We constantly receive messages from our customer base thanking us for adding a rewards program.
Smile.io is a win-win for all!"
– Janelle Hyatt, Executive Director & Special Projects, evy's tree
Topps understands how passionate their customers are about their sports heroes, and wanted to turn that passion into an outstanding customer experience. With the introduction of the Now Rewards program, Topps has seen incredible results in less than a year with Smile.io.
"The simplicity of Smile.io is what made their loyalty program so successful for Topps."
– Jeff Heckman, Director, New Product Development & eCom Marketplace, Topps
Sales From Top
Tier Members