Why do we partner with Aircall?
DIDO is proud to announce a new partnership with Aircall, the phone system for modern business. Aircall helps businesses (like DIDO!) streamline phone systems, integrating into whichever CRM or HelpDesk software you're already using.
Aircall helps us sync phone call data between our business tools, collaborate and share tasks across teams, and track notes and historical data.
Keeping all of our conversations in one place helps us stay on top of communications about your email marketing campaigns.
DIDO and Aircall work together to organize and leverage every meaningful phone conversation.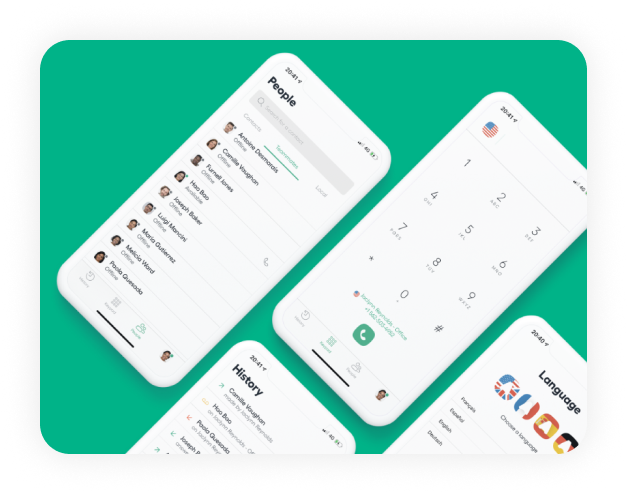 More benefits, partnering with Aircall
By partnering with Aircall, DIDO can:
Aircall helps us keep our project calls organized and within reach within a matter of seconds.
Flexible 
Scale with your team and adapt to your business needs
Connected
Sync data between your phone and favorite business tools
Collaborative
Work across teams in a single platform
Insightful
Track agent performance and call data in real-time
Instant
Set up your phone system in 3 minutes or less
Integrated
Connect your calls with all your favorite tools
Real-time view
Monitor agents and track performance in the moment
Proven quality
Consistent 99.99%+ uptime
Aircall, a solution for...
Director of Sales
200 sales reps
Outbounds calls
SaaS
Worldwide
Director of Customer Service
50 agents
Inbound calls
eCommerce
United States
Why choose Aircall?
Fastest phone system implementation
Intuitive UX & UI
Turn your phone system into a productivity tool
Simple pricing 50$ user/month
Collaboration features
Ring groups
Call routing
Unlimited concurrent calls
Parallel calls
Assign and comment on calls
Call monitoring
Shared call inbox
Shared contacts
Call whispering
Call center features
Business hours
Interactive voice response
Power dialer
International numbers
Warm transfer
Call queuing
Toll-free numbers
Professional business phone
Call conferencing
Click to dial
Forward to phone
Skill-based routing
"Issue resolution is much more effective by phone than by email. It really allows us to explain the situation, and for the customer, hearing a voice just feels more genuine. Not only is resolution time 50% shorter over the phone, it's also more likely to deliver a positive outcome for both parties."

– Shelley Tasker, Operations Manager
faster issue resolution
over the phone
"Our account manager at Aircall has been fantastic. It's great to have someone to work with who can help us create new ideas for improving our service. He's phenomenal, responsive, and always follows up with information and insights that help our business grow."

– Ruth Lemon, VP of Operations
average call time
with Aircall
"The BAC Team was really pragmatic in providing advice and feedback and steering us in the right direction. These great partners will ask a lot of questions, test your assumptions and try to figure out how you got to that answer."

– Mark Hogan, CFO, Carpet Court Australia
smart workflow
integrations
"Especially for new hires, I can use call whispering to tell them to take a deep breath and pause. It helps us support our agents and prevent them from being flustered, which helps them learn and makes their job easier."

– Christina Ebersole, Head of Human Resources
Integration
between Richpanel and Aircall
allows to work smarter not harder