The holiday season is one of the busiest and most lucrative times of the year for many businesses, especially as companies push for that last quarter of revenue.
According to ROI Revolution, eCommerce sales made up 1 in 5 purchases in 2021, generating over $200 billion in revenue. So, if you want to cash in on the high purchasing power that makes the holiday sales season so merry and bright, you'll need a solid email marketing plan. 
Email marketing allows you to connect personally with your biggest fans while simultaneously attracting new buyers with exclusive promotions and rewards programs. Read on to explore DIDO Agency's tips for adapting your strategy, and making this holiday season one of your best.
Why Email Makes the Best Holiday Marketing Tool
Holidays—no matter what time of the year—provide an excellent opportunity to reach out not only to current subscribers but to potential new ones, too. You can generate even more leads by promoting the need to "share" the value you offer to your subscriber's families and friends through email. 
There are 4 reasons why email is one of the best holiday marketing tools.
1. Emails are Made for our Mobile World 
Your subscribers rely on their smartphones and tablets for all kinds of information. Research even shows that a growing number of consumers are doing their holiday shopping on mobile devices. In the past four years, purchases made on mobile devices jumped from 3.4% to 36.7%, according to a report by Castor. In addition, a whopping 76% of Black Friday emails and 63% of Cyber Monday emails were opened on a mobile device, according to Movable Ink! DIDO always uses mobile-ready email templates that can help you keep your customers up to date and repeat purchasing. 
2. Emails Offer Instant Buying Options 
Research shows that 41% of retailers use "Buy Now" buttons in their email marketing, making it extremely simple for subscribers to make a purchase. By using a call-to-action (CTA) button in your email, you can highlight a gift, a special offer, or even event tickets that a subscriber can buy in only a couple of clicks. Keep in mind that your customers are just as busy as you are during this time of year, and anything that can speed up their holiday shopping will benefit both them and your business.
3. Emails Can Support All of your Campaigns 
Businesses can use email to promote sales, invite subscribers to holiday events, showcase unique gift ideas or even share gift guides—the list of campaign types email supports is endless. Emails highlighting specific campaigns allow business owners to reach out to customers regularly and stimulate sales throughout the season. Email can also support other marketing initiatives, such as social media sales, contests, and reward programs.
4. Emails can be Automated and Personalized to Maximize Efficiency & Effectiveness
The holidays are busy in every way, so focus on efficiency and effectiveness by automating your email campaigns, from welcome emails to offers and reminders. You can also segment your emails to create personalized messages for specific types of consumers, as personalized emails have been shown to deliver 6x higher transaction rates!
How To Write Holiday Subject Lines Your Subscribers Can't Resist 
If you want your holiday emails to be opened instead of discarded, they having catchy, witty, and/or enticing subject lines are key. To help you craft holiday subject lines your subscribers simply won't be able to resist, try out these 5 tips. 
1. Use Power Words 
Some words are more attention-grabbing than others, so make sure to leverage these where you can. When crafting your subject lines, use power words from the following categories.
■ Sales Driven: Hot deal, promotion, discount, savings, free shipping, exclusive.
■ Timeliness: Order now, limited time, today only, last minute, open now.
■ Holiday: Good cheer, 12 Deals of Christmas, Season's Greetings.
■ Words of Gratitude: Thank you, appreciation, support, and family.
2. Personalize your Subject Line 
Emails with personalized subject lines are 26% more likely to be opened, so it's worth your time to add a subscriber's first name to the subject line this holiday season. You should also consider other ways you can personalize your campaigns, like segmenting your audience and tailoring your shopping suggestions.
3. Consider adding emojis ⛄🎃🎅🏻
Adding a holiday snowman, stars, or a tree to your subject line is a great way to grab attention. Brands using emojis in their subject lines have seen a 45% increase in their unique open rates, and the snowman specifically drives the highest rates. Leverage emojis to catch people's attention, add some holiday flair, and drive open rates even higher.
4. Ask a Question 
Questions are automatically engaging, which is why they're great for subject lines. Try something like "Need some gift ideas?" or "Want your gifts wrapped and delivered to your front door?" Turn the content that's inside your email into a question that only you, your brand, or your product can answer.
5. Put your offer front and center
With so many emails hitting subscribers' inboxes during the holiday season, don't make them have to hunt for your offer. Feature your offer prominently in your subject line to capture your reader's attention and get them to open and read the rest of your email. If you offer free shipping, you'll be off to a good start; 74% of consumers say free shipping is one of the most important features when checking out online, according to a report by UPS.
6 Holiday Email Examples to Inspire
Just as there are various holidays to celebrate throughout the year, there are even more email examples out there to help guide your creative process. We've compiled a short list of 6 example emails to help you ideate how to engage and inspire your audience this holiday season.
1. Promote your Black Friday or Cyber Monday Sale 
According to data from RJ Metrics, the days from Black Friday to Christmas generate 50–100% more revenue than other shopping days throughout the rest of the year. AeJuice sent subscribers a Black Friday offer a day early, following current email marketing trends of sending out celebratory offers earlier and earlier to entice shoppers.

2. Send a Holiday Gift Guide
Despite the fact that shoppers have the internet at their fingertips, many still wait until the last minute to do their shopping; last-minute shopping sees a 6% year-over-year growth, according to RetailNext.
Last-minute shopping happens every year because shoppers aren't sure what to purchase for their loved ones. So, if your customers need inspiration, you should give it to them! Craft a gift guide that offers your subscribers ideas of what products they can buy this year like Gravity Defyer did below:

But why stop at just one gift guide? You can send multiple, tailored guides throughout the season by breaking ideas down into categories, including: 
■ Gifts under $10/$20/$50/$100.
■ Gifts for someone specific (i.e. Mom, Dad, Boss, Teacher, etc.)
■ Gifts for specific hobbies or interests. 
■ Gifts for different age groups (i.e. Children, Teens, Seniors, etc.) 
■ Stocking Stuffers.
■ Gifts by color/scent/flavor. 
■ Gift by product type (i.e. Electronics, clothes, etc.)
3. Give a Gift for Referring a Friend
You can use the holidays to grow your customer base by encouraging referrals. Give current subscribers a deal if they refer a friend, or allow existing customers to pay for a subscription as a gift. Sparkel gives its subscribers deluxe samples when they buy a friend a one-year subscription.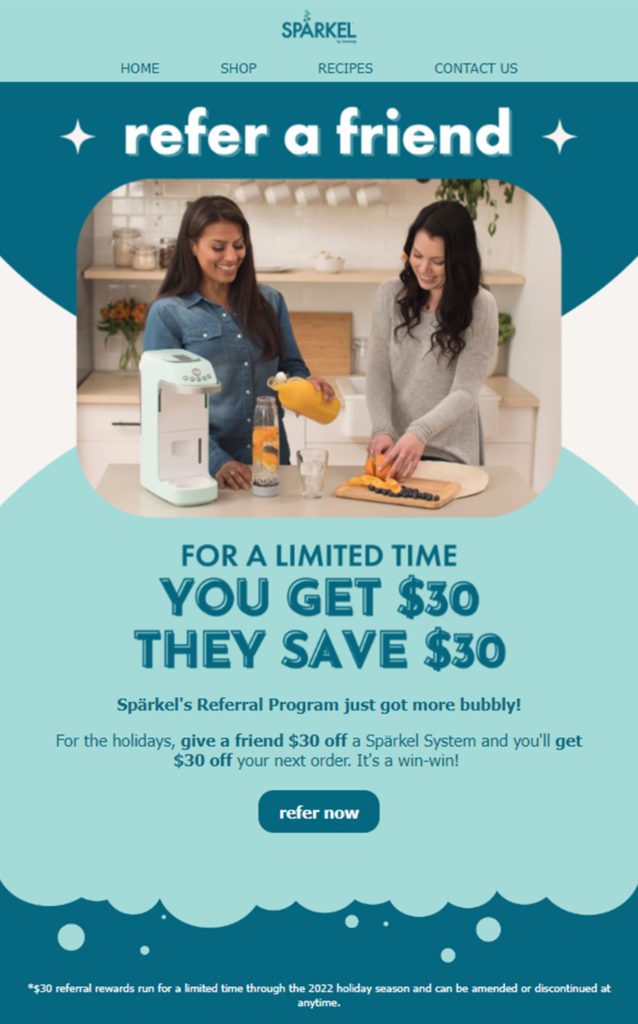 4. Use Popular References in Your Email
A good way to connect with your audience is by referencing something that everyone knows and understands, like a Holiday song, movie, or character.
5. Send Last-Minute Deals
As we mentioned previously, there are always last-minute shoppers. In 2015, the average shopper had only completed 53% of their shopping list two weeks before Christmas!
6. Send Post-Holiday Emails
When the holidays come to an end, it doesn't necessarily mean you should stop sending holiday-related emails. Consider sending a few "post-holiday" deals to your subscribers to nab a few more sales and encourage shoppers who received gift cards over the holidays to start using them.
Top 3 Tips to Create a Perfectly Gift-Wrapped CTA
As we wrap up our guide to holiday email marketing, don't forget about your CTA! Here are 3 final tips to give your CTAs some extra holiday magic this season. 
1. Use a Button
Subscribers shouldn't have to search for a CTA; it should be obvious! A CTA button provides the kind of "look at me" display you want in an email. Subscribers can skim right over hyperlinked text, but it's nearly impossible to do that with a button. Buttons compel subscribers to click them.
2. Keep the Text Short
Your CTA message should be short and to the point, using only two or three words like "Buy Now," "Get the Deal," or "Save 40%." For example, Ossa Frames uses the simple words "Shop Now" to encourage clicks.
3. CTA Should Lead to a Landing Page or Purchase Page
When subscribers click on your CTA, where do they go? Traffic from your CTA should be directed to a landing page or a page where they can purchase the item or service that matches your email offer. The landing page reassures subscribers that they're in the right place and makes a direct connection to the specific deal that you're offering. Sending subscribers to your homepage or to a random spot on your website could cost you a sale.
Wrap-Up 
By using this holiday email marketing guide, you'll be on your way to creating and sending emails that resonate with your subscribers this holiday season, and every holiday season to come. Here's to better email marketing year-round.