Generating newsletter campaign ideas can be challenging if you want to send them regularly, especially when marketers often juggle completing tasks! 
With visual communication being a key component of content marketing strategies, ideation for impactful newsletters has to be a priority for brands. Why? Because running out of ideas isn't an option! 
So, where do you go when you can't think of what to include in your next email newsletter? The best place to start is back to the content you've already created. Previously crafted content is a goldmine for generating ideas and creating more marketing material.
In this article, we'll share 9 ways that you can repurpose existing social media and video content for your company's newsletters.
Generate newsletter campaign ideas from social media
Social media has a wealth of material from which you can generate newsletter ideas. Here are 6 ways to repurpose social media content to help increase email chickens and engagement on your newsletter.
1. Use social visuals as newsletter content heads
Visuals created for social media can serve multiple purposes; they can be used as headers for newsletters, or to section off segments of an email.
While emails can be text-based, images are a great way to increase clicks. Strong images can also give recipients an idea of what to expect within the email.
This is why headers are so important, but marketers don't want to design a new header for every email. So, why not make life easier and repurpose a visual that has already been designed?
An image like the one below can be used on social media to thank donors. It can also be repurposed as a header for your newsletter templates.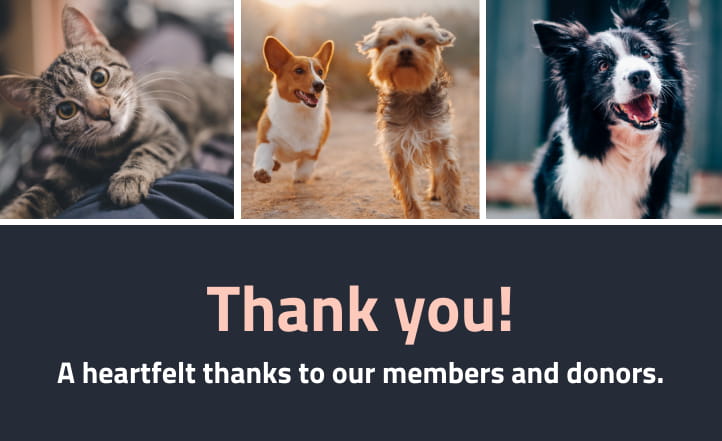 Another advantage to using the same image across multiple platforms is that you create synchronicity across your marketing platforms, improving brand recognition. 
2. Generate newsletter content ideas from top social media posts
When you post on social media, your content doesn't have to live solely on that platform. What works on social media could translate to clicks to emails.
Analyze your best posts on visual platforms like Instagram, Pinterest, Snapchat, and TikTok to mine content for your emails. These will make for engaging stories in your newsletter.
Although platforms like TikTok might be newer and more "exciting," don't overlook the content on traditional and more text-focused channels like Facebook, Twitter, and LinkedIn. The posts on these channels could make for compelling content in newsletters—and you can link back to the original post to drive views and engagement across platforms.
Another method for repurposing social posts is to curate the week's top posts and send them as a newsletter featuring top brand stories. Social media is a busy arena—there are so many posts populating users' timelines that it is easy to miss out on updates. By compiling the best posts of the week, you ensure that your users don't miss out on essential brand stories while generating newsletter content with ease.
3. Use social poll results for newsletter content ideas
Many social platforms give their users the option to create polls, which has become increasingly popular among social media users.
For example, take a look at this poll from Evernote that got 380 votes—it can be repurposed for email campaigns.

Marketers can run the same poll via email. Micro surveys or polls can help you understand your audience better and find ways to generate more relevant newsletter content for them.
Comparing poll results from social media against results from email polls would make for good supplementary content, and it will give companies insight into their users.
Brands also have the option of sharing the poll results in an email. For Evernote, this would be a great opportunity to plug their app since it is designed for taking down notes on the go.
Additionally, sharing poll results in emails informs recipients that the brand is capable of creating content like polls, giving users added incentive to engage with them in the future.
4. Improve newsletter copy with user-generated content
User-generated content (UGC) is one of the most authentic kinds of content from brands and acts similarly to word-of-mouth marketing but in a visual way.
Showcasing real people adds value to a brand's platforms. It also gives your consumers a sense of authenticity and realism to your brand's online presence, which is why UGC is important to incorporate in marketing campaigns.
Marketers often associate UGC with social media, but it can be used to boost email engagement as well. User images and videos can be sourced directly from users' accounts, but you should always ask them for permission to use their posts in your emails, of course.
Contests are another source of UGC They can be used to promote email signups on social media or to boost social followings via email campaigns.
When creating UGC-powered newsletters, adopt a theme to make the campaign more cohesive—that will help create more interest and engagement for recipients.
5. Use gated content in your newsletter
Gated content is another great way to increase engagement. Gated content includes anything that requires users to fill out forms, sign up for access, or make a payment, and is a great tool because of the value it offers users.
This type of lead-generating content is usually longer and very thorough, offering readers more in-depth knowledge of a subject matter.
You can repurpose existing gated content from your website or socials and offer it to your newsletter subscribers to entice them to open your content.
6. Use infographics as newsletter content
Infographics are a visual resource that cannot be discounted for email marketing. Combining imagery, icons, text, and charts, infographics pack a lot of punch for a single piece of content.
While infographics are largely used for brand websites and blogs, they also make for great email content.
When you design infographics for blogs, or to share with partners for link-building purposes, consider how the graphic can be repurposed for emails. You can also look at existing blog posts to mine content to be converted into infographics. These can be shared with audiences via newsletters.
7. Use video content to generate newsletter campaign ideas 
Video content has steadily been becoming more popular, and is another great tool for newsletter content generation. If your company is creating videos in any form, then they are a great resource for your newsletter content ideas.
Here are three ways to use videos in your newsletters to boost email clicks.
8. Use Instagram Stories for newsletters
Let's start with an unusual option—Instagram Stories. This kind of ephemeral content has become a mainstay of social media, but it can be used in newsletters, as well.
Instagram Stories are available for only 24 hours. While that makes for great short-term engagement, not all your followers can check their social media every day. For those followers, seeing the highlights from your Stories in their inbox can motivate them to continue associating with your brand.
Followers are invested in a brand's Instagram Stories because they put a face to the brand and give people an inside look at a corporation. Instagram Stories are also great for covering events, conducting Q&As, influencer marketing, and creating social polls.
YouTube content is another great way to mine newsletter content ideas.
9. Incorporate YouTube videos in newsletters
Native videos that play directly in inboxes make content more engaging. It keeps users focused on the email content, increasing the chances of them clicking through to your website.
■ Use CSS and HTML to create a short video effect on a series of static frames.
Marketers can take screenshots of the Stories—including the text captions, emojis, and stickers— to share in the newsletter, or create a video of the raw files to incorporate in a newsletter.
■ Create an animated play button to encourage people to click through to the video.
■ Add a GIF of the video and link it to give the user a sense of motion.
But video embeds can be tricky if HTML coding isn't something your team is familiar with. However, there are other ways to add videos to your newsletters:
■ Screenshot a frame from your video to add to the email and link it to the video.
Videos increase interactivity and engagement but they can be challenging to embed in a newsletter. But, if you have the wherewithal to include videos, they will make for excellent newsletter content.
Explainer videos have become quite popular among the denizens of the internet, primarily because of how many people use YouTube as a search engine.
10. Create how-to guides from video tutorials
But while video tutorials are engaging, people don't always have the time to watch an entire video. They want the highlights in a neat package that they can refer to whenever necessary.
That is where you can tie your YouTube marketing with your newsletter content. Add YouTube tutorials in your newsletter using the aforementioned methods.
But, if it's a long piece of content, you could risk subscribers leaving the video part way, or worse, unsubscribing. Instead, put together highlights from the video and build content stories for your newsletter.
You can create a campaign where you regularly share video highlights on specific topics for your audience to keep them engaged with your brand.
Wrap-Up
Marketing teams design a lot of content, but so much of it is used only once or for a short campaign. Reuse the content you already have to generate novel newsletter content ideas and increase email views and clicks, using these 9 ideas for inspiration.